Storm Damage - 9/10 June 2021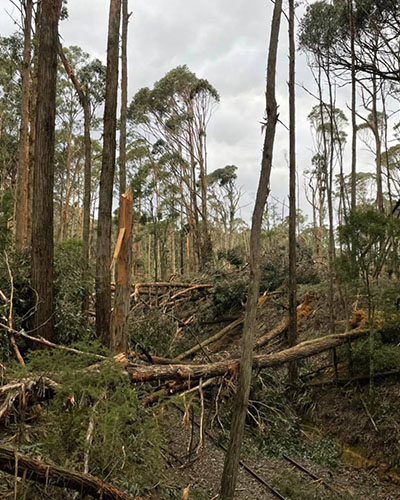 One of the most impacted parts of Victoria in the extreme weather and storms of Wednesday and Thursday 09 – 10 June was unfortunately along the course of the Daylesford Spa Country Railway, where the line runs through picturesque mountain forest. These forested areas are both between Daylesford and Musk as well as Musk and Bullarto. The storm literally tore a great swathe through the forest, knocking down trees and snapping off giant tree limbs. Some of the tree carnage lays beside the rail line but much of the line in these forested areas is literally covered by fallen trees and smashed timber to the point where you can hardly see the track in places. Understandably, the railway is completely blocked in numerous places and it will be some time before the whistles sound at Bullarto. What used to be picturesque forest is now a disaster zone as the photographs show. However, the DSCR will endure yet another setback caused by the fury of nature.

In February, 2009, the Musk Vale, Hogans Lane bushfire burned out the forested section of the railway between milepost 73 and the end of the forest near Quines Road, Musk. After months of work, hundreds of burned up sleepers and some twisted rail was all replaced and trains finally ran again to Musk and later on to Bullarto. In the mean time, a short shuttle service ran from Daylesford to just past milepost 73 at the edge of the burned out forest. Now, it will be like that again for a while.

We are working with the State Government and Hepburn Shire to find assistance and funding to have the debris cleared off the rail line as soon as possible. Inquiries are also being made with a suitable contractor with hi-rail gear to clear the fallen trees from embankments and cuttings where normal vehicle access is impossible. The debris will be taken to various level crossings and piled up there. We are formulating a plan of attack to get the big job done but clearing the track of debris is only the first step in storm recovery.

Before trains can run through to Bullarto again, the line must be inspected closely for any impact and water damage and put right. We face an immediate future of a lot of hard work and considerable expense but thankfully the trains will still run at the Daylesford to Musk end of our railway, notwithstanding COVID-19 restrictions, lockdowns and cash shortages. Fortunately too, our popular weekly Sunday Market is still operating, albeit at a reduced capacity with COVID-19 restrictions in place.

Again, we appeal to our valuable members and volunteers to come up and help us, when you can, with a day or more of your time and some spare cash. We've beaten disaster before and we will beat it again so that by late winter or spring, trains will run all the way to Bullarto again.

If you would like to donate to the Daylesford Spa Country Railway to assist with our recovery, please click on the donate now button below.