Daylesford sunday market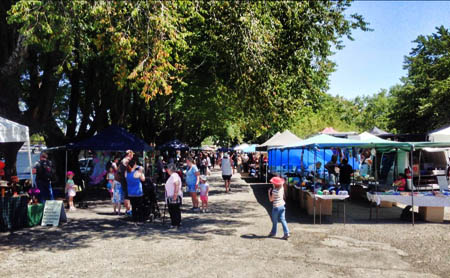 The Daylesford Sunday Market operates each Sunday from 8.00 am to 3.00 or 4.00pm at Daylesford Station (rain, hail, shine or snow).
A wide variety of stalls selling everything from books to spare parts for the car, fresh local produce, clothing and collectables are located at the market.
The Daylesford Sunday Market is located at 18 Raglan Street (Midland Highway) and plenty of FREE car parking is available.
Dogs on a leash are welcome at the Daylesford Sunday Market.
If you have something to sell and would like to attend our Sunday Market, please pre-book a stall or arrive before 6:30am on Sunday morning to queue for a stall site.
Please note that we cannot accept any more produce, food, sock or candle stalls at the moment.
$35 pre-booked stall
$30 base stall fee
$110 regular monthly fee.
To find your booked stall - South East Map, Mid Paddock Map, North West map
To find out more about the Sunday Market please click here to download the information pack.
Further Enquiries: sundaymarket@dscr.com.au