Timetable and Fares
Timetable
Until further notice, Vintage trains operate to the following timetable on Saturdays
All trains currently operate to Musk due to storm damage in the Bullarto section.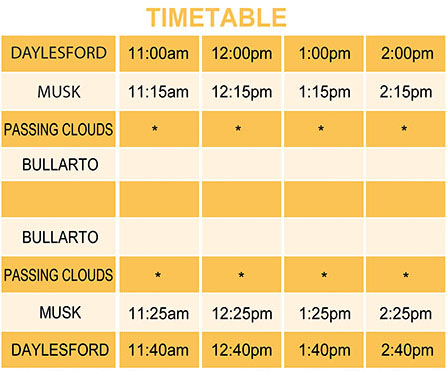 Please note: For travellers to Passing Clouds, the train will not run to the passing clouds platform unless requested at the ticket office on the day of travel.
Fares
Booking prior to 9:00am on the day of travel is strongly recommended and you must wear a mask while on board (exemptions apply).
Tickets may be available on the day if not booked online. We prefer cashless payments and EFTPOS facilities are available within the station booking office.
If you purchase a ticket on the day you must check in via a QR code for contact tracing purposes.
Unfortunately we are unable to offer one way tickets until further notice.
Click Here for more information regarding online booking

Trains will not operate on days declared as Code Red fire danger.