Y159 - Clyde/GM G6B Diesel Electric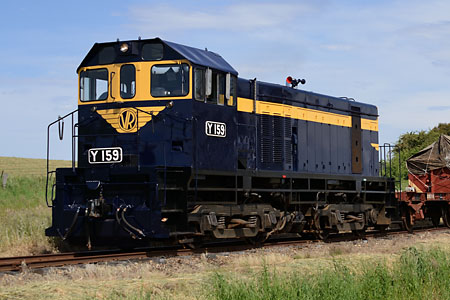 History of Y159
Although the Daylesford Spa Country Railway specialises in rail motors and trolleys, the railway does own one ex Victorian Railways Clyde/GM-E.M.D. locomotive model G6-B, number "Y 159". This locomotive is somewhat unusual in that it has the 2nd generation of the very smallest conventional EMD (General Motors) locomotive and marine engine block, the small 6 cylinder, 645E model engine, based upon the earlier 567 model, originally designed in 1937 by Charles Kettering at General Motors. 645 denotes the capacity of each cylinder in cubic inches.
Y159 was completed on Thursday 14th March 1968, with builder's serial number 67-579 at Clyde Engineering, in Granville, N.S.W and procured under contract 63083 at a unit cost of $101,700.00. Y 159 was withdrawn from regular V/Line traffic in March 1989 and arrived at Daylesford by road in the early 1990s still painted in V/Line tangerine and grey. The locomotive has since been repainted VR blue and gold twice since delivery to Daylesford; the second time by a magnificent preparation effort and the use of 2-pack paint.
The Victorian Railways (once) had a 75 strong "Y" Class fleet; and the Western Australian Government Railways (once) a 5 strong similar "J" class fleet with these "baby" engines. These are all slightly different versions of the same "export" model designated "G-6B", a 600, 650 or 750 H.P. (depending on which model variation) Bo-Bo, Diesel Electric, built by "Clyde Engineering" of (then) Granville N.S.W. under licence from the Electro Motive Division of General Motors in the United States. Y 159 is a direct descendent of the technology inside Rail Motor 63 RM.
During the 1950s and 60s, the VR replaced nearly all of its main line and secondary/branch line steam locomotive fleet with EMD diesels. However, seemingly due to some peculiar whim of the Chief Mechanical Engineer of the day, sometime before 1959, the VR chose a new non-standard fleet of 650 H.P. Mercedes-Benz powered, V12, Diesel-Hydraulics with Krupp transmissions capable of 40 M.P.H. as our steam replacing shunting engines and occasional branch line engines! The VR initially ordered a fleet of 25 these locomotives (the "W" class) which began delivery in December 1959. When more units were needed to replace further steam "shunting" locomotives, a second order of 25 "W's" was placed with the builder, Tulloch of Rhodes N.S.W.
Realising that the first batch were presenting with severe mechanical flaws, someone "put the brakes on" the second order so only one unit was actually delivered. The VR later purchased the Tulloch Company "demonstrator" locomotive which gave the VR a total fleet of 27 Diesel Hydraulic "W" class. As a footnote; a number of the "W" class were re-engined from 1973 onwards with a GM Detroit Diesel 149 V-12 blocks and had the "high speed" ability of the Krupp transmissions fixed permanently at "low gear" (restricting them to about 20 M.P.H.), but alas, this still did not solve the locomotives' problems!
Needing a replacement for the "W's", the VR went to Clyde Engineering in the early 1960's (General Motors - EMD's Licensee in Australia) and ordered a batch of "small" shunting engines similar in horsepower to the cancelled "W" class. Clyde came up with the "G-6B" model (G= hood unit; 6= 6 cylinders; B= Bo-Bo wheel arrangement), a 600 H.P. shunting engine initially (the first 50) with an EMD 567C V-6 engine block. 25 were initially ordered and designated the "Y" class, replacing the cancelled second order 25 "W" class. We definitely know Y number 123 became the very 1st Commissioners' Train Diesel-Electric Locomotive replacing steam engine D3 639.
These Y class locomotives, first delivered on Tuesday, September 17th 1963 ("Y" 101), proved so successful electrically and mechanically and popular with crews that a further 25 were soon ordered identical to the first batch except for the placement of the batteries. These were moved from a battery box on the Drivers' side (L.H.S.) external on the footplate to a similar location just inside the long hood.
This is where the story gets interesting. In the design of the locomotives, the VR wanted to "economise". Hence, they wanted Clyde to re-use 2nd hand Electric Multiple Unit (suburban train) M car traction bogies (from the wooden 1920's upgraded "swing door" and later built 1920's sliding door "Tait" trains or "Red Rattlers") for the new locomotive power bogies! Clyde's engineers obliged, BUT, the length of the fully equalised Bradford Kendal cast suburban train bogies meant there was no space between them for a fuel tank. (However, the main reservoirs did manage to get squeezed into the remaining space between the bogies).
So, where to put the fuel tank? It was placed in the location of the electrical cabinet, which meant the fuel tank was above the footplate and next to the cab. This never caused any significant problems.
As the fuel tank was now in the location of the electrical cabinet, where to place it? Why, of course, in the cab! Consequentially the "Y" class cabs were full of an enormous box containing all the switchgear and relays. Believe me, the competing "W" class, and as yet unmentioned English Electric "F" class (shunting units – a small fleet of 10 new and 6 second hand, Dick Kerr Works built, English Electric shunting engines, approximately equivalent to British Rail "11" class) were "so bad" cab wise that the engine crews found the "table height" electrical cabinet in the new "Y" class EMD's quite acceptable.
The VR were also frugal with the air brakes and just "re-used" the all brass, Westinghouse "Number 4", equalised automatic air brake handles (a "basic" Westinghouse brake) reclaimed from D3, A2 and Y class steam locomotives. Air brake function was controlled by a basic freight wagon "improved" triple valve (more modern, diaphragm type "W" triple valves were retrofitted in the 1980's). Direct engine straight air brakes were provided by a Westinghouse self-lapping "W" type air brake as you might find on a "W" class Melbourne tram!
In the late 1960s, more shunting engines were needed so a further batch of 25 "Y's" were ordered, taking the class total to 75. However, this third batch, introduced in 1968 were fitted with an EMD 645E V-6 engine block and rated at 750 H.P. The last two units 174 and 175 entered service on Thursday, November 8th 1968. The very last unit, 175, became the 2nd Commissioner's Engine in Diesel-Electric form. It was geared for 60 M.P.H. until the late 1970's when it was replaced by several interchangeable T class locomotives (399, 400, 406, 410) and it's gearing returned to 40 M.P.H.
Electrically the "Y" class ran in full, true, parallel at all times, never making transition. They were however provided with just one field shunt (or weak field) which was controlled by main generator "Wattage" output. The field shunt "picked up" at 20 M.P.H. with throttle in "Run 5" or above and "dropped out" at about 17 M.P.H. or with the throttle reduced to "Run 3" or below. As these locomotives were often used on the road, some maintenance staff and locomotive drivers agreed that the "Y" class desperately needed a second field shunt at a higher speed as they "died" above 15 M.P.H. (25 km/h) with a significant load.
In service the "Y's" were equally used for both shunting and road service although their suburban train bogies restricted them to 40 M.P.H. (65km/h). This proved painful on the main line when one or more "Y's" were part of the "lash-up" or when the Y's were being transferred to or from rural locations. The "Y's" also saw passenger service to short haul destinations out of Melbourne such as Werribee, Bacchus Marsh, Sunbury and Stony Point. They were also heavily used on "light lines" (i.e. 60 lb rail) especially where maintenance had been minimal and track speed was as low as 10 M.P.H. and axle loads very low. The Ys with their low 16.25 ton axle load were ideal for this service. All this branch and main line running, often as lead unit, happened with no crew vigilance control device ("Alteror" device - US) whatsoever.
By about 1990 after the state-wide Victorian "Shunting Operations Review" (a massive rationalisation of & reduction in shunting) and the reduction in rural grain lines and rebuilding of those that remained for higher horsepower, heavier locomotives; the "Y" class locomotives began to become surplus. This was bad news for the "Y" class and they started to fall into the scrap metal merchant's hands. The locomotives effectively sold for scrap value of well less than $10,000.00 AUD just for their brass and copper and the author believes more than 41 of the total fleet of 75 have now been cut-up.
The irony is that now, with the deregulation of freight rail in Australia, all old locomotives' value has increased exponentially from the few thousand dollars handed back from the scrap dealers in the late 80's and throughout the 90's to $100,000.00s each.
So, the 34 (or less) remaining "Y" class, 6 cylinder units are in a variety of hands and in demand. Some remain with Government operators, some are privately shunting freight, some are pressed heavily into all forms of private branch and main line freight service and a few are in the hands of preservation societies.
Now we come to part two; the five G-6B's of the Western Australian Government Railways. As transcontinental uniform standard gauge approached during the latter 1960's, W.A.G.R. ordered new power. For shunting the new standard gauge Avon Yard and at Kalgoolie, 5 x G-6B, 650 H.P. shunting engines were ordered with 567C V-6 blocks. They differed a little from the Victorian "Y" class as they were built as "proper" EMD's with flexicoil bogies, fuel tanks below the footplate and a cab floor clear of an electrical cabinet; and of course, full dual driver's controls for both directions. Most of Australia had full dual controls on all locomotives except Victoria, who economised on control equipment and in some instances virtually had the Engineman driving the locomotive quite literally "backwards."
Notably, the "J's" did have air filters mounted above the long hood near the cab. They also had sandboxes mounted directly on the locomotive bogies. Once again they had no vigilance control system. They were delivered between July and October 1966.
The J's seemed to live a life without note until J 101 was involved in some kind of mishap sometime during the mid-1980's. The locomotive was scrapped in 1986 and its parts sold together with the four remaining J classes to now defunct Victorian Company, Great Northern Rail Services during the mid to late 1990's.
One by one the four remaining J's were restored and saw a variety of roles being "hired out" to National Rail Corporation (102 and 103) for intermodal Driver Only shunting; Rail Technical Services (now Gemco) (J 104) used theirs for placement and retrieval of The Overland passenger set from Spencer Street Station and also yard goat duties at their maintenance shop, and to other operators for a variety of purposes as well (esp. J 105).
After GNR folded in November 2002, J102 and J103 ended up becoming the property of Southern Shorthaul Railroad (Services), whilst numbers 104 and 105 were sold to "Freightlink"; operator of the Tarcoola to Darwin private railway. The Freightlink locomotives retained the same road numbers but were reclassified "FJ" and now serve as "yard goats" at Alice Springs and Darwin.
So ends the story of the Australia's only V-6 EMD's. Of the 80 constructed, about 38 (or less it would seem) remain intact and in a variety of roles. A few lead "gentile" lives doing occasional shunting at private industrial plants or Government passenger yard duty; the rest, for the most part, "work their guts out" at 50 years of age. They live a much harder life now, than that for which they were constructed. Y 159 is fortunate to be safe and in loving hands at Daylesford.
Prepared by Sean Kelly with special thanks to Motive Power Engineer, Phil Dunn for some technical and contractual details.